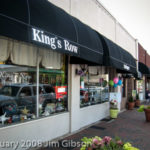 If you own or manage a retail shop and are interested in selling our CDs, we'd love to talk to you.
We have two plans for shop owners and managers–straight wholesale and consignment. Click the links for more details.
If you buy wholesale, the process is simpler and there's less bookkeeping to do.
But if you don't want to invest money up front, or would like to test the CDs in your shop, consignment might be perfect for you.
It's true that CD sales are declining, but millions of people still prefer a physical CD to lower-quality downloads and streaming, and our wholesale and consignment sales remain very strong.
Lots of shops are making significant money selling our CDs.
Don't leave easy money on the table! You're probably playing music in your shop right now–why not profit from it?
We've had wholesale clients of all sorts, including dentists, chiropractors, but most of our retailers are:
Gift shops
Museum shops

A point-of-purchase retail display of Jim Gibson's solo piano CDs in a gift shop.

Historic sites
State parks
National parks
Bed and breakfasts
Inns
Art galleries
Tea shops
Coffee shops
Antique stores and malls
Restaurant gift shops
and many more retail spots
Here's information on our wholesale offering to you.
Here's information if you're interested in consignment sales.
Click here to return to the Home page
Click here to go to List of All CDs page
© Copyright 2017 Hickory Cove Music
\or bulk/quantity purchases for gifts, party favors, and so on NO THIS SHOULD BE SOMEWHERE ELSE—maybe how to purchase
2. for shops seeking information on wholesale or consignment sales
a. who sells HCM CDs—representative list of types with lots of photos
b. why it works for shops, even today, to sell CDs.
c. who buys CDs today? Anybody, but mostly middle age people–and up. These CDs are sold in nicer shops across the country
d. Wholesale is simplest, 'cleanest' and most common
d. Consignment works well for galleries and certain other shops with a system in place to track sales. Give examples
3. What we provide–demos, printed sales aids, 'now playing' easel.
Give us a call or send us an email to find out more.