A Unique Solo Piano Style
Jim's music has been available in the solo piano CD market since 1996, and there are now sixteen recordings that have sold well over a hundred thousand recordings.
So, with so many listeners enjoying the music, the question we hear most frequently is,  "How did Jim develop his style? I've never heard anything exactly like it."
Here's How It Came About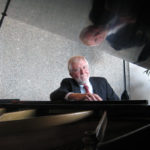 In addition to his recording work, Jim has spent decades as an active professional pianist. He's played literally thousands of events of every sort–jazz to classical– in Atlanta and the Southeast, in Florence (Italy) and in Paris. And he often plays home concerts for small groups of music enthusiasts.
These years of commercial piano work are important, because performing for a wide range of audiences teaches flexibility and builds useful musical skills.
Thus, Jim can shift instantly from style to style and be masterful in each of them. He knows thousands of songs (bad ones and great ones), and this feeds his creativity as well. He has played hundreds of "jazz gigs" as well as thousands of quiet solo-piano dinners, cocktail parties, and receptions.
He's played for Broadway shows, backed famous comedians and singers, and played for hundreds of weddings and dinners in homes, clubs, and executive suites all over the Southeast
Some of this work was as a solo pianist, and much of it is with bands and combos of all sizes.
Years of Experience Bring Musical Maturity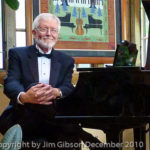 These years of piano experience have given Jim a depth of understanding of popular music, and provide the structure for his unique approach. This depth of experience and knowledge adds to the appeal of his playing (and it didn't hurt that his mother was a piano teacher.)
Most people tell us that they especially enjoy Jim's deep appreciation for melody that's so obvious in all his recordings. You might even say it's the core of his style.
What's in a Style?

Jim's style is flowing, different, unique. If you like relaxing solo piano music, we know you'll enjoy these recordings.
(And, if you're a musician, you'll appreciate the fact that Jim doesn't just play in the 'easy' keys. He moves through them as easily as he meanders through styles, tempos, and musical ideas.)
This is not cocktail music, though it has many of the same characteristics–it's quiet and melodic, and often is built around great compositions by Jerome Kern, or Cole Porter, or Andrew Lloyd Webber . . . or Stephen Foster.
But here's the difference–Jim manages to add something extra to these instant compositions that sets them apart from "just" cocktail piano.
Jim's music isn't new-age, although it is quiet, relaxing, and peaceful. You may be reminded of the great solo piano recordings of George Winston or Philip Aaberg.
It's not classical, although it has restraint and structure, and always displays polished technical ability. Often, you'll hear quotes from the classics. You can certainly tell that Jim loves Chopin.
And it's not jazz . . . though it is all completely improvised, created on the spot. Jim's early influences as he started his professional playing career included jazz piano icons Errol Garner, Oscar Peterson and Dave Brubeck.
Later, he listened closely to Keith Jarrett and Chick Corea. These influences are identifiable in his playing, but don't dominate.
As one of our customers wrote, "It's just the prettiest music. I listen to it all day and never get tired of it."
Jim's Music Is Enjoyed All Over the World
We think you'll agree. Please take time to browse the recordings and see if Jim has recorded your favorite song. In fact, we have a chart that lists all the songs from the CD which is here.
Plus, downloads of every single song are available on any of your favorite download sites, from international iTunes to Amazon to CDBaby.
And most of Jim's music is available for streaming worldwide on Spotify, Pandora, Apple Music, Amazon Prime Music, and virtually all other streaming sites. Just search for "Jim Gibson piano" on your favorite streaming service.
Click here for a list of all 16 CDs. Each CD's page has a link for more detail and an audio sample from the recording.
© Copyright 2017 Hic
kory Cove Music